After a few more races and time trials, I can safely say that go-karting is the ultimate motorsport hobby. It costs much less than owning a racing car, like a Formula 4, but you'll get the same levels of adrenaline on every lap. However, motorsports have historically been dangerous. The racing world recently lost Anthoine Hubert in a freakish accident in 2019 at Spa-Francorchamps. So, it's only normal for my closest friends and family to keep asking me whether go-karting is dangerous or not.
The answer is yes and no. There are many dangers in karting, which can sometimes be fatal. According to the CPSC, an average of 10,500 go-kart-related injuries happen every year.
That being said, according to a more recent study, the severity of the injuries is usually due to faulty equipment on track and inexperience of the driver which can be prevented by following some very basic rules and tips you'll need to remember and I'll explain below.
Let's go ahead and talk about the potential dangers of go-karting, and how to avoid them.
What Are the Dangers of Go-Karting?
From my personal experience, go-karting will make you sore. Whether it's your first time on the track or you're a seasoned driver, you're more than likely to get hurt, even if it's a simple bruise that goes away the next day.
However, there are a few moments or mistakes that make go-karting really dangerous. If you don't fix these mistakes, or you're unlucky to get yourself in certain situations, you might get a pretty bad injury.
Your Go-Kart is Prone to Rolling
Go-karts aren't F1 cars. So, if you're approaching a sharp turn going 60mph, you'll either roll over or hit the wall. Go-karts have a really low center of gravity, so they do not tend to roll over but are not rollover-proof. This means that you can take sharp turns but need to pay attention so that you don't lose contact with the track at high speeds unless you want to end up upside down.
That being said, you'll also need to avoid any bumps with other drivers. A heavy bump with another racer on any corner can result in you being upside down and (potentially) being really hurt.
The Go-Kart's Weight Distribution is Essential
Go-karting is a family-friendly activity if all the safety measures are taken. So, I can understand why parents would love to have their kids on their laps while driving around. I've even seen it numerous times on the tracks I've visited.
That being said, never go for a fast lap with someone else on your go-kart. Not only are you putting yourself in danger because of the suboptimal weight distribution, but you're dangering your passenger's life.
The Go-Kart's Rear Axles are Exposed
I was never really a fan of baggy clothes and long hair, so I've never faced this problem. But, you'll have to remember that most of the internal parts of a go-kart are exposed. This means that they can grab onto clothes and long hair, resulting in devastating injuries.
I will not add videos of injuries and other extreme cases that will prevent you from going to the track but, the dangers of go-karting are plenty. Plus, according to the statistics, many people get hurt yearly. So, is there any way to stay safe while you're driving a go-kart?
How to Stay Safe While Driving a Go-Kart
Thankfully, there are several measures that you can take to ensure that you stay safe while driving a go-kart.
Choose the Right Track
While the track layout isn't crucial, you'll have to choose a track that takes as many safety measures as possible. Providing you at least a helmet and a racing suit too (if possible), having seatbelts and (if needed) roll bars on the go-kart, is essential.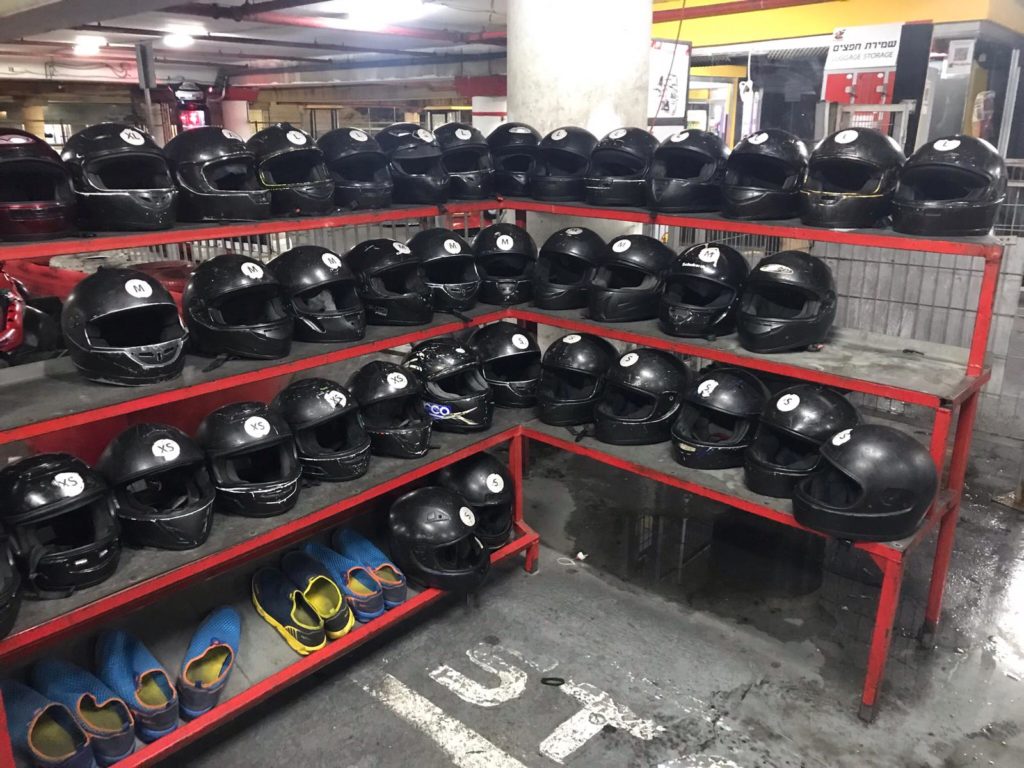 Cover Long Hair and Wear Appropriate Clothes
The rear axles and the wheels of a go-kart are always ready to grab anything that comes their way. Always tie up your hair and cover it up with the helmet, as well as wear tighter clothes.
Follow the Rules
This is pretty self-explanatory, but many newcomers to the sport rarely follow the rules. Unless you want to end up in the wall or upside down, you should always follow the track's rules. Listen and follow everything that the marshalls order you to do.
Check Your Go-Kart's Parts
You should do this if you race on your own go-kart. If you're renting a go-kart, the track will most likely provide you with a safe go-kart, so you won't have to worry about faulty equipment.
However, if you own a go-kart, you'll have to constantly check your engine and your tires before you even get on track. A blown engine, a blown tire, and oil dripping from the engine are just some of the potential issues you might face if you don't ensure that your go-kart is in excellent health.
Wear Your Seatbelt and Your Helmet
This goes without saying, but always wear your seatbelt and helmet in a go-kart. If you don't have a helmet, or there's no seatbelt in your go-kart, don't take it on the track. Showing off to your friends isn't worth the horrendous injuries you'll sustain in case of a crash.
Ultimate Go-Karting Dos and Don'ts to stay safe on the track
I've pretty much said everything concerning safety when go-karting. Below are four DOs and four DON'Ts that you should follow when go-karting. As long as you do (and don't do) all of these, you'll be a much safer go-kart driver than the majority of drivers out there.
Do: Remember that go-karts aren't toys. If you treat go-karts like toys, you'll end up getting yourself and other racers hurt.
Do: Tie up your hair and avoid baggy clothes. This way, you'll not have to worry about them getting caught up in your go-kart's wheels or engines.
Do: Ensure that your equipment is in good health. If any part of the go-kart is faulty, you'll probably end up in a wall with a broken engine or a blown tire.
Do: Practice. At the end of the day, the best way to avoid an accident is by knowing when's the right time to brake, overtake, and turn.
Don't: Treat go-karts like bumper cars. By doing that, you're putting yourself and everyone around you in danger. Plus, you'll most likely get kicked from the track.
Don't: Race after drinking alcohol. Driving go-karts while you're drunk will make you perform much worse. But, you'll also be much more likely to crash or get badly injured.
Don't: Drive outside the track. Whether it's an indoor or outdoor, asphalt or dirt track, it's specifically designed for racing. Remember that public roads aren't racing tracks.
Don't: Race with passengers. You should be the only one on your go-kart when you're going for the fastest lap.
Don't: Forget to have fun. Go-karting is all about having an adrenaline rush and having fun. If you do not have fun racing, then you'll have no reason to stay safe on your go-kart.
Stay tuned for more articles just like this one!