We all know how expensive karting can be. But I've always wondered how much a Formula 1 car costs. I'd heard that teams like Ferrari spent $400 million developing the car before 2022's cost cap. Is the actual car worth that much? Well, not really.
A Formula 1 car costs around $18 million. Its cost includes all the necessary parts, like the engine and the chassis, and race consumables, like the tires and wheel bearings. With the new $140 million cost cap, the car takes up 13% of it.
That said, an F1 car is the most technologically-advanced automobile out there. So, it comes with several components that add to its cost. That's why I decided to create a cost breakdown below and check out how you can buy your personal F1 car!
Formula 1 Car: Cost Breakdown
While I'll talk in-depth about every component of the F1 car, here's a table with a quick cost breakdown. But, I need to clarify that these are just estimates and reports from F1 insiders. The actual cost of a 2022 F1 car is still unknown to the public.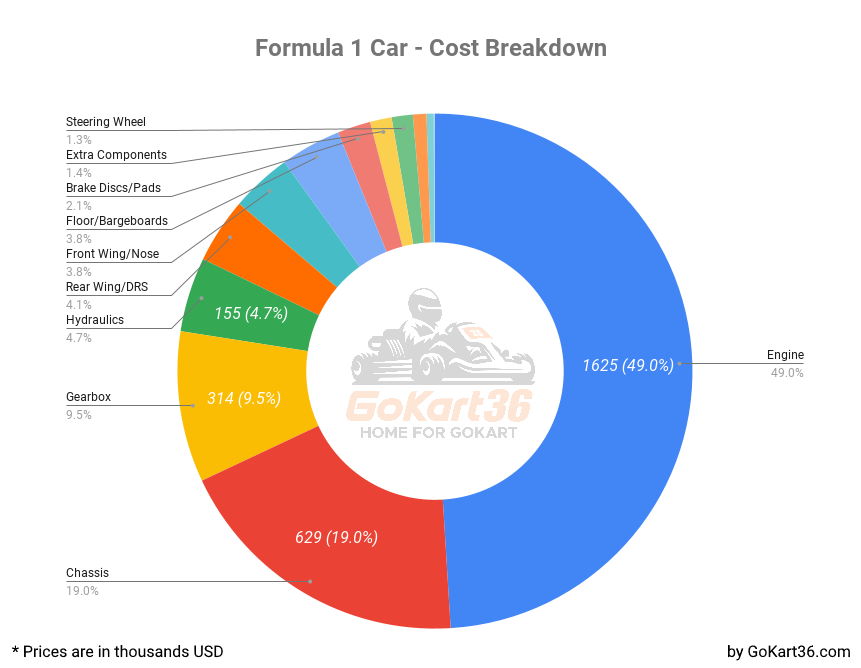 | | | | |
| --- | --- | --- | --- |
| PARTS | COST (€) | COST (£) | COST ($) |
| Engine | 15.13 million | 12.92 million | 16.25 million |
| Chassis | 585,000 | 500,000 | 629,000 |
| Gearbox | 293,000 | 250,000 | 314,000 |
| Hydraulics | 144,000 | 123,000 | 155,000 |
| Rear Wing/DRS | 71,000 – 126,000  | 61,000 – 108,000 | 77,000 – 136,000 |
| Front Wing/Nose Cone | 117,000 | 100,000 | 126,000 |
| Floor/Bargeboards | 117,000 | 100,000 | 126,000 |
| Brake Discs/Pads | 64,000 | 55,000 | 69,000 |
| Extra Components | 42,000 | 36,000 | 45,000 |
| Steering Wheel | 41,000 | 35,000 | 44,000 |
| Fuel Tank | 26,000 | 22,000 | 28,000 |
| Halo | 14,000 | 12,000 | 15,000 |
| Tires | 2,400 | 2,050 | 2,600 |
| TOTAL | ~16.7 million | ~14.2 million | ~17.9 million |
Engine
The engine is the heart of an F1 car. It's not a surprise that it costs more than any other component. However, what is surprising is that it makes up 90% of the whole car's cost.
Then again, an F1 engine is by no means simple. It consists of 6 different parts: the MGU-K, MGU-H, Turbocharger, ICE, Energy Store batteries, and Control Electronics. So, its price is justified.
Chassis
The chassis acts as a shield for the driver. I expected it to cost more since it's made of several carbon fiber layers. In fact, it's supposedly more potent than steel, while it weighs a fraction of it.
That said, the chassis isn't only a long piece of carbon fiber. It connects the front and rear wings to the car, and it's also made to break into two parts in case of a big crash.
Gearbox
An F1 gearbox is probably the most advanced in motorsports. It's certainly better than what shifter karts use, despite costing more than 10 karts.
The gearbox has 9 gears (8 forward ones and one reverse), featuring rapid gear shifts. Shifting gears in F1 takes less than 5 milliseconds, if I remember correctly. 
Also, gearboxes differ from team to team, so the costs will be different as well. That's because the engines and gearboxes are usually from the same teams. For example, Haas runs on a Ferrari engine, so they'll have a Ferrari gearbox, compared to AlphaTauri's Red Bull engine.
Hydraulics
While they don't cost as much as the engine, I think that the hydraulics systems on an F1 car are among the essential parts. 
Most of the car's innovative functions, like the DRS, the seamless gearshifts, and even the brake and throttle pedals, wouldn't work without certain hydraulics. Also, power steering is utilized through hydraulics. I can only hope that go-karts have these one day!
Rear Wing
The rear wing didn't cost that much before DRS was introduced. Despite being essential for the car's aerodynamics, they can't be tuned or repaired during a pit stop, unlike the front wing I mention below.
But, ever since DRS's introduction in 2011, teams have dedicated a lot of their research to ensure that the system functions correctly at all times. And they also have to make sure that the rear wing provides the necessary downforce during a race.
Front Wing
The front wing is usually overlooked in newer F1 cars. Many seem to forget that it's the primary source of downforce for the car, along with the floor. And, before the 2022 regulations, teams would emphasize the front wing's development.
Also, it's one of the few F1 car parts that can be tuned and replaced during a pit stop. In terms of adjusting a front wing, some drivers could ask the mechanics to change the height of the wing when the weather conditions are changing.
Floor/Bargeboards
The floor and the bargeboards are the last F1 car components that cost over $100,000. But, due to the 2022 regulations, which reintroduced the ground effect, the floor's price has increased significantly. Some reports have stated that it could be as high as $300,000!
Due to the new regulations, the floor and bargeboards are the most critical parts for the car's aerodynamics. Also, because of the porpoising issue, the research cost for the floor has probably skyrocketed.
Brake Discs/Pads
The brake discs and pads on an F1 car are pretty intricate. The brakes usually reach temperatures of over 700 Celsius in heavy braking zones. Also, the driver can change the brake bias at any point during a hot lap or race.
While the entire braking system costs around $60,000, the brake pad and disc only cost around $3,500. But, the system also includes the brake calipers and the pedals.
Additional Components
Several minor components, like the wheel bearings, add up to a pretty high cost. Also, a chassis loom, which connects all the car parts together, can cost up to $30,000 on its own. So, despite not being significant components of the F1 car, they set the teams back more than the tires and the steering wheel.
Steering Wheel
When the costs of an F1 car come up, everyone talks about the steering wheel. That's because the price of an F1 steering wheel is as high as that of a commercial car. But, it's also one of the most advanced parts of the car.
In fact, the steering wheel has 20 buttons, 6 paddles, and 9 switches. All of these can be customized by the teams, making the wheel a very intricate component of the F1 car. 
Fuel Tank
The fuel tank is arguably the most durable part of an F1 car, along with the Halo. An F1 fuel tank is made from kevlar, ensuring that it doesn't have any leaks. This is why it costs as much as a racing go-kart.
But, as we saw in Romain Grosjean's crash in the 2020 Bahrain GP, the fuel tank isn't indestructible. 
Halo
Unlike the fuel tank, the Halo held up pretty well in Grosjeans's crash. After its controversial introduction in 2018, the Halo has since been accepted by everyone as one of the best innovations in F1.
It has saved several drivers from potentially fatal accidents. And, compared to other parts, it doesn't cost that much. Also, according to the FIA's tests, it can hold a force of 10 tonnes. That's around the weight of a double-decker bus!
Tires
The tires are the cheapest parts of an F1 car. But, once you consider that each team uses 13 sets of tires every weekend, the total cost comes closer to that of a fuel tank. Unlike go-kart tires, F1 tires come in 3 different dry and 2 wet compounds. 
So, now that you know how much a 2022 F1 car costs, let's see how you can get your hands on one!
Can You Buy an F1 Car?
Well, unfortunately, you won't be able to get your hands on any new F1 cars. That's because the teams either keep most cars as heritage pieces or gift them to drivers. Also, unless there's a big regulation change, some parts remain the same from year to year. But that doesn't mean you can't buy an F1 car.
There are several online auctions on F1 Authentics, Retro Racecars, Racecars Direct, and more where you can get your own F1 car. The cars auctioned range from ones that race in the 80s to Schumacher's Ferrari cars to even the 2022 Alfa Romeo show car.
Most F1 cars that you can buy cost $40,000-$100,000 if they're show cars, or they go up to millions if they're race-winning ones.
How to Determine the Price of an F1 Car
An F1 car's price comes down to 4 main factors: is it drivable, who drove it, is it a show car, and what condition it's in.
A drivable car will sell for much more than an undrivable one since… you can drive it. The price is also higher because of the engine in the car, which, as we established above, is the most expensive part of an F1 car. On the other hand, a show car doesn't have an engine, so it costs much less.
If an F1 champion drove the car, then its price will be very high. It doesn't have to be a championship-winning car, either; Senna's 1984 Toleman, which was his rookie year car, sold for more than $1 million. Of course, if it is in good condition, its price skyrockets.
The Most Expensive F1 Car Ever Sold
The most expensive F1 car ever sold is the 1954 Mercedes-Benz W196R, which was driven by 5-time F1 World Champion Juan Manuel Fangio. The car sold for a whopping £19,601,500 ($29.6 million at the time) at the Goodwood Festival car auction in 2013.
Conclusion
An F1 car is one of the most expensive vehicles. Some of its parts cost more than an actual car. And, I can confirm that almost every component of a Formula 1 car costs more than a racing go-kart. But, you can get your own F1 car for much less than the current ones.
Stay tuned for more articles just like this one!
FAQs for The Cost Of a Formula 1 Car
Can You Buy Old F1 Cars?
Yes, you can buy old F1 cars. Most Formula 1 cars sold in auctions are from the 80s and 90s, and, as I said above, new F1 cars are sold a few years after their retirement.
Are Formula 1 Cars Street Legal?
You can't drive an F1 car on a public road. While some old Formula 1 cars are still drivable, driving them outside of planned events is illegal, especially on public roads.