Last month I went to Italy to take some time off from my daily work routine and have some fun in the beautiful north.
Italy is a country that has a lot to offer for tourists but together with wine, art, great food, and architecture I was looking to include in my vacation some of the very developed motoric culture that Italy has.
To make things short, I didn't manage to get my hands on a Formula 4 car that I planned to rent for a few laps in a track (will definitely do it someday) so I opened Google Maps and looked for the closest GoKart track near Verona which was the place we stayed.
The last time I was in the local karting track was when I was around age 10 and it was a limited kart for kids who do not have any driving experience.
What I was about to experience in the Affi Indoor Kart track was nothing like what I remembered from age 10 at all.
First time on a real GoKart
So I looked on Google Maps and found Affi Indoor Kart. It was about 30 minutes of driving from our apartment and I turned the car switch on and was on my way to the Pista (track in Italiano).
The way was so beautiful and I arrived at a small city near Garda lake called Affi (of course..).
Short registration on the track and I was on my way to the brief before the qualifying session and got the helmet and the rib protector.
The session was with me, two local guys (around age 15), and two guys from Germany.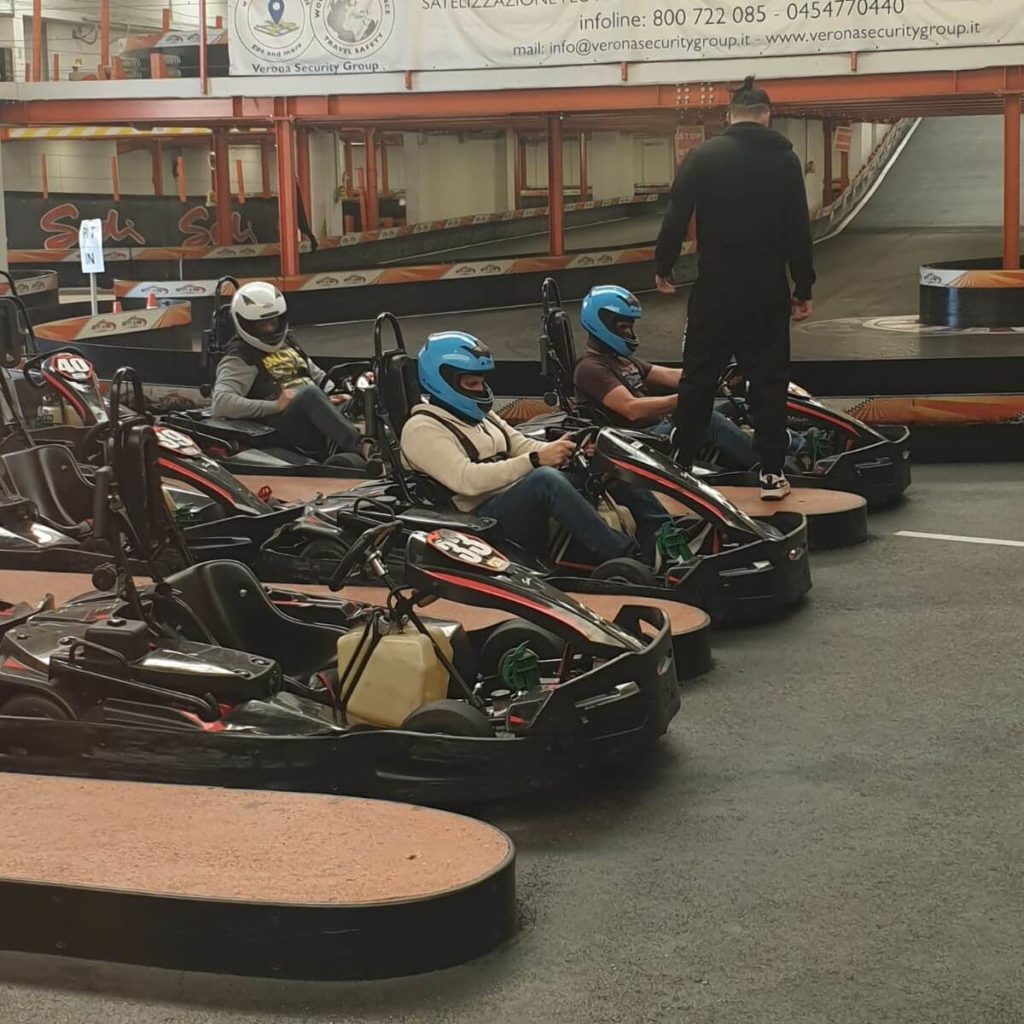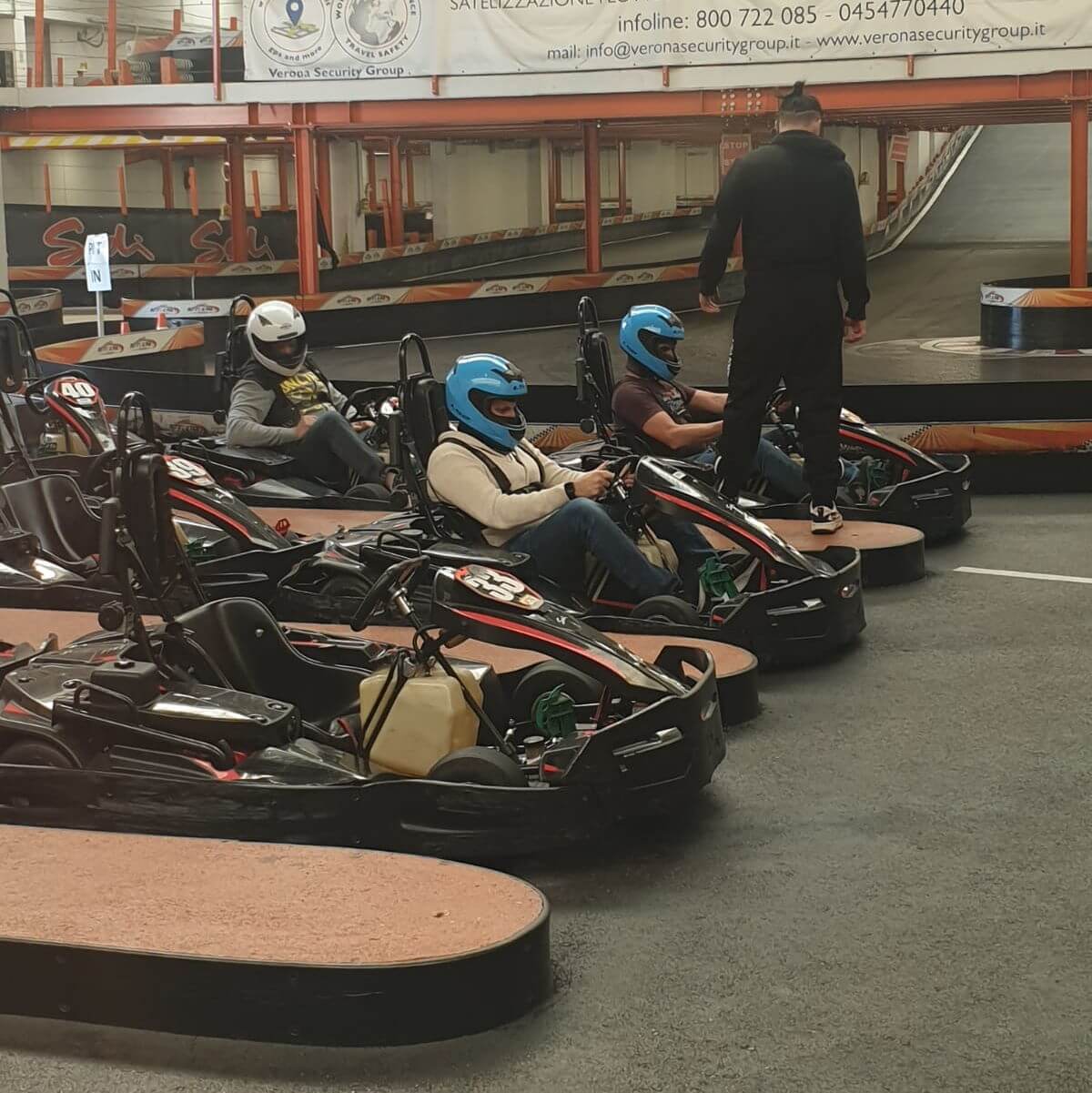 Preparing for Qualify
Shortly after we were set in our karts, we started a qualifying session to warm up.
It was love at first sight, took me around 51 seconds to complete the first lap and it was magical!
This machine has so much handling, it feels like you are on rails.
The qualifying session was 10 minutes long, after that my hands were so overwhelmed but my heartbeat was in the sky. Full of adrenalin and just want more!
Timing-wise I was the last in the session, the Germans were 0.5 – 1 seconds faster than me with a hot lap of ~50 seconds, the two locals were way faster than us with 46/47 seconds.
Racing Session
The guide gave us a few minutes to rest and prepare ourselves for the race session.
Another 10 minutes which the goal is to finish maximum laps as possible in the given time.
We were set on the grid, I was in position 5 and we started the race.
I push the gas pedal to the max, the kart starts to accelerate, first turn, the first lap, I move to position 4.
The second lap time was 50 seconds but not consistent. I find myself back in the last position. The race finished and it was fantastic.
I felt like I found my new hobby for the next few years for sure.
Recap in Affi Indoor Kart
So Affi Indoor Kart was a very nice place, the track is two floors so it's new for me (never drove on a two-floor track).
As an English speaker, it wasn't so easy to complete the registration since the guy in the reception isn't speaking English but the barista from the cafeteria came to help and we passed that stage.
The karts feel great, look maintained very well, and the track too.
Affi Indoor Kart offers multiple pricing tiers:
17 Euro – 10 minutes session.
30 Euro – A GP which includes a 10 minutes session for qualifying and another 10 minute session for the race.
45 Euro – Super GP which includes 10 minutes of qualifying, 10 minutes for race and another 15 minutes for second race.
I took the GP plan, 10 min qualify\practice, and 10 minutes for the race. I felt like it was exactly for me because after these 20 minutes I was exhausted.
After the race finished, each one also received a result page with the times of the sessions and even an email with a digital copy.
That's it for now, ciao!